Sunday Worship

Our Sunday morning worship is at 10 am. From Father's day through Labor Day weekend it changes to 9:30 am. During the summer children are encouraged to stay in worship with their parents. We try to make the summer worship services more "family friendly" so that children can enjoy worshiping with their families.
On the Sunday after Labor Day we resume our regular 10 am worship time and classes for Children and Adults Children's classes begin after the Children's time in worship and are at the same time as the worship service. Adult Bible Study is at 9 am.

Friday Bible Study at the Whitcomb Building, 1 Mineral Street, Springfield, Vermont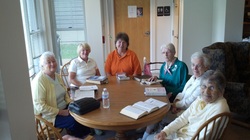 9:30 am on Fridays we have a Bible Study at the Whitcomb Building. This is a wonderful small group that prays for each other as well as enjoying a variety of Bible Study resources.

We have members of several different area churches who join in this Bible study with us and we enjoy sharing our various insights.

---
Senior Lunch

On the first Friday of each month we have a lunch for members and friends who are 50 and over at the North Springfield Baptist Church. Currently we have 10 to 16 people for lunch. Come and join us!

Worship at the Adult Day Services Center on River Road in Springfield

At 11 am on the second Friday of each month we have a hymn sing and worship at the Adult Day Services Center.

Worship at the Springfield Rehab Center on Chester Road in Springfield

At 2:30 pm each Sunday there is a worship service at the Springfield Rehab Center. The Association of Springfield Area Churches sponsors this worship service and we participate in a 5 week rotation. Check the Calendar to see when we will lead the next worship service.

Fun and Faith - A week of suppers, worship, and crafts this summer.

Instead of a daytime vacation church school program, we will be having an evening program that can be attended by everyone in the family. Typically our family week is the last week of July or early August. Check our Facebook page for current details. We will be having free suppers followed by worship and crafts for children and their families. Supper is at 5:30 pm and we will finish around 7 pm.

Community Dinners

On the first Fridays of Even months from 5 to 7 pm we have free dinners that are open to all who desire to join us for supper. The next community dinner is on Friday, June 1st from 5 to 7 pm.

Fund Raising Suppers

During the school year, on the third Saturday of each month from 4 pm to 7 pm, we have Ham suppers to raise money to support our ministries. The cost is $10 per adult and $5 for children from 5 to 12 years old. Children 4 and under are free.